This is Frank`s Page :
His Views on DUKES, Computers, Women and the Rest of Life
one of the friends I met over the INTERNET is Frank from Illinois. He owns one of the best DUKES I have ever seen and he sent me some pictures to prove it. Sure thing I share them with you. I enjoy the e-mail conversation with him very much since it shows the DUKE driver`s attitude towards life very well.This is his page and all the comments are taken from his e-mails. Enjoy them as much as I do.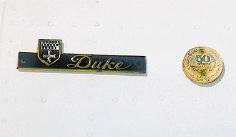 Frank describes himself : EBERHARD: I AM THE PROUD OWNER OF A 1982 DUKE (SERIAL NUMBER: P589) WITH THE CALL SIGN OF "N157JT". MY DUKE IS BASED AT "KARR" (AURORA MUNICIPAL AIRPORT JUST WEST OF CHICAGO, ILLINOIS). I HAVE OWNED MY DUKE FOR TWO YEARS NOW AND AM REALLY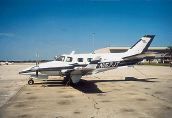 BEGINNING TO LOVE FLYING IT. I HAD NUMEROUS PROBLEMS WITH IT JUST AFTER I BOUGHT IT (I TRANSITIONED FROM A BARON 58).
(Frank`s realistic attitude towards maintenance :)
THESE PROBLEMS WERE CURED USING THE USUAL METHOD THAT DUKE OWNERS USE - LOTS OF MONEY!!
I USE A TERRIFIC 'FBO' AT AURORA, LUMANAIR, WHO DOES TRULY WONDERFUL AND CONSCIENTIOUS WORK ON MY AIRPLANE. AT THE PRESENT TIME, IT IS IN FOR ITS ANNUAL INSPECTION.
Never satisfied with what you got ( just like me) : I DECIDED TO ADD SOME ACCESSORIES TO MY DUKE DURING THE ANNUAL: WINGLETS/AFTBODYSTRAKES; "POWER-PAK" SPOILERS; AND A SHADYN FUEL-FLOW COMPUTER THAT ACCESSES MY KING 'KLN90B' GPS UNIT.
I AM LOOKING FORWARD TO GETTING THE AIRPLANE BACK FROM ITS ANNUAL TO TRY ALL OF THESE NEW TOYS THAT EVERYBODY SEEMS TO LIKE.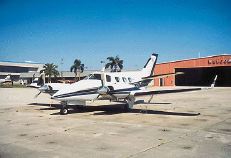 (yayaya I know all about the GOOD arguments for making a good toy even better) : I DECIDED TO GET THE SPOILERS TO MINIMIZE ALL OF THE LANDING GEAR CYCLING THAT I USED TO HAVE TO DO WHEN DESCENDING FROM ALTITUDE. THE 'BLR' WINGLETS AND AFT BODY STRAKES ARE FOR BETTER CLIMB CHARACTERISTICS AND, HOPEFULLY, TO MINIMIZE THE 'ROCKING' THAT THE DUKE DOES AT ALTITUDE. I ADDED THE FUEL COMPUTER FOR THE SAME REASONS THAT YOU MENTION IN YOUR WEBSITE.THEN I DECIDED TO HAVE MY COMMUNICATIONS/NAVIGATION ANTENNAS PLUS INTERCONNECTING COAXIAL CABLE REPLACED AS THE ORIGINAL EQUIPMENT WASN'T WORKING AS WELL AS I THOUGHT THE EQUIPMENT SHOULD. SO AFTER ALL OF THOSE EXPENSIVE IDEAS, IT IS BACK AT MY MAIN'FBO' BEING PREPARED TO GO TO THE PAINT SHOP ON THIS MONDAY.
True love : IT IS STRANGE THAT, AS MUCH AS I CURSE MY AIRPLANE, I MISS IT WHEN IT IS OUT OF SERVICE. CAN'T WAIT TO FLY IT AGAIN, EBERHARD.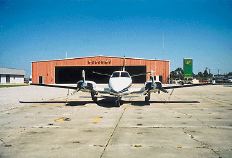 IT IS REALLY NICE TO OWN A 'DUKE' SINCE WE DON'T HAVE TO WORRY ABOUT DISPOSING OF CASH IN A FRIVOLOUS FASHION. WE ALWAYS KNOW WHERE TO PUT OUR DISPOSABLE INCOME, DON'T WE??
Spoilers :
MY MAIN RATIONALIZATION FOR THE 'SPOILERS' WAS TWO-FOLD: 1) DECREASE FURTHER THE NUMBER OF ENGINE RPM CHANGES THAT I HAVE TO MAKE DURING A FLIGHT; 2) MINIMIZE THE "WEAR-AND-TEAR" ON THE LANDING GEAR (WHICH I HAD TO DROP IN ORDER TO AVOID EXCESSIVE AIRSPEED DURING A DESCENT. IF THESE SPOILERS ACCOMPLISH THIS, THEN I WILL BE VERY SATISFIED WITH THIS REASONABLE (NOT!!) INVESTMENT.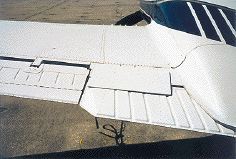 HERE IS THE SUMMARY OF MY MAIN IMPRESSIONS:
1) THE "SPOILERS": GOD, THESE ARE WONDERFUL!!!!!!!!!! THEY WORK EXACTLY AS ADVERTISED. FROM A HIGH ALTITUDE (ABOVE 15,000 FEET), THEY ALLOW DESCENTS OF 1300 FEET/MIN AT 160 KNOTS WITH THE ENGINE SETTINGS UNCHANGED FROM CRUISE SETTINGS (32" MANIFOLD @ 2500 RPM). THE TRUE ADVANTAGE IS NOT HAVING TO DROP THE GEAR TO SLOW DOWN AND BEING ABLE TO LEAVE THE ENGINE SETTINGS UNCHANGED. DURING DESCENTS AT LOW ALTITUDE (BELOW 8,000 FEET), THE RATE IS ABOUT 1,000 FEET/MIN @ ABOUT 170 KNOTS AIRSPEED INDICATED. THE SPOILERS THEMSELVES COST US$7500 + SHIPPING + 40 MAN/HOURS OF INSTALLATION + PLUS PAINT TO MATCH. THEY ARE ENTIRELY FLAT AGAINST THE WING WHEN NOT IN USE AND ARE INSTALLED ON THE OUTSIDE WING PORTION NEXT TO EACH ENGINE JUST FORWARD OF THE FLAPS. SURPRISINGLY, THE NOISE LEVEL WHEN ACTIVATED IS JUST A VERY LOW VOLUME RUMBLE. O' LORD THEY WORK WELL, THOUGH.
Result : I ABSOLUTELY LOVE THESE SPOILERS. IN FACT, THEY ARE SO GREAT THAT I HAVE INQUIRED ABOUT ADAPTING THEM TO MY WIFE (JUST KIDDING).
Frank on his attitude towards computers, the internet and all the rest :
EBERHARD: I RECEIVED YOUR LAST 'E-MAIL' MESSAGE (29 APRIL) WITH ACCOMPANYING DIGITIZED PICTURE. THE GOOD NEWS IS THAT I WAS ABLE TO RETRIEVE THE TEXT MESSAGE WITH NO PROBLEM; THE BAD NEWS IS THAT I HAVE YET TO FIGURE OUT HOW TO DECODE A PICTURE FILE RECEIVED THROUGH COMPUSERVE. AS YOU HAVE BY NOW GUESSED, I LOST THE PICTURE FILE WHILE TRYING TO FIGURE OUT HOW TO DECODE IT. I WOULDN'T RECOMMEND THAT YOU RESEND THE PICTURE AS I WILL PROBABLY LOSE IT AGAIN - PLUS IT WILL BE REALLY EMBARRASSING IF I LOSE IT A SECOND TIME.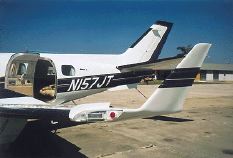 JUST FOR THE RECORD, I DON'T THINK THAT THE PICTURE LOSS PROBLEM IS ENTIRELY THE FAULT OF COMPUSERVE. LET ME JUST SAY THAT MY INTERNET INCOMPETENCY IS KNOW WORLDWIDE. MY THREE EMPLOYEES IN MOSCOW NO LONGER TRY TO SEND ME ANYTHING THROUGH THE INTERNET OTHER THAN 'E-MAIL' AS I HAVE DEMONSTRATED TO THEM THAT I CAN ALSO LOSE "WORD" AND "EXCEL" FILES JUST AS EASILY AS I CAN LOSE YOUR PANEL PICTURE. SO, THERE MIGHT BE SOME OTHER REASON FOR THIS PHENOMENA OTHER THAN COMPUSERVE (YOU WILL NOTICE THAT I AM NOT ADMITTING DIRECTLY TO STUPIDITY-ONLY HINTING THAT THE POSSIBILITY EXISTS). MY EXPERIENCE INDICATES THAT ANY COMPUTER , OR COMPUTER RELATED FUNCTION, THAT I OWN HAS A BUILT-IN SUBROUTINE THAT EXISTS SOLELY TO MAKE MY LIFE HELL.
Frank tries out his winglets :
THE "WINGLETS" AND "AFT BODY STRAKES": SO FAR I CAN ONLY ANNOUNCE TWO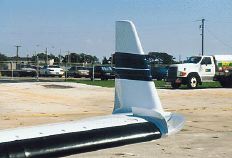 ADVANTAGES FROM THIS PACKAGE. ONE, IT REALLY LOOKS SEXY. TWO, THE WOBBLING THAT I EXPERIENCED ON AUTOPILOT AT HIGH ALTITUDE CRUISE (ABOVE 20,000) IS VIRTUALLY ELIMINATED. I CAN'T HONESTLY SAY THAT I HAVE SEEN THE INCREASED CLIMB RATE AND SLIGHTLY HIGHER CRUISE SPEED PROMISED, BUT I AM HAPPY THAT IT SOLVED ONE PROBLEM THAT OTHERS HAVE NOTICED WHEN THEY FLY WITH ME. FOR LOOKS, YES, GET THEM. FOR PERFORMANCE, I DON'T KNOW YET.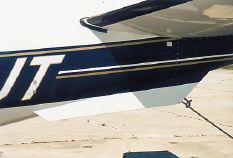 I asked Frank what he meant by all that "WOBBLING" of his DUKE in high altitude since I don`t have that phenomenon on mine. I mentioned an autopilot or yaw damper problem and told him that I don`t trust the digital KING autopilot. The components are said to "communicate" with each other while I thinks they should talk less and do a better job. This is Frank`s answer :
YES, I DO USE THE 'KFC250' AUTOPILOT IN MY WOBBLY DUKE. IT IS INTERESTING THAT YOU MENTION THE 'CENTURY IV' UNIT BECAUSE MY FRIEND IN NEW YORK (ALSO A DUKE OWNER) HAS THE SAME UNIT THAT YOU DO AND ALSO DOES HAVE THE PHENOMENA THAT I DO IN MINE. I GUESS THAT THERE IS SOME DIFFERENCE IN THE WAY THAT MINE INTERFACES.
I HAVE HAD EVERYTHING LOOKED AT, AT LEAST TWICE, WITH NO SUCCESS UNTIL THE WINGLETS WERE INSTALLED.
AS TO THE MESSAGES THAT MY ELECTRONICS SEND TO EACH OTHER, I AM NOT SURE ABOUT THE CONTENTS BUT I DO HEAR THE INSTRUMENTS GIGGLE OCCASIONALLY. THIS IS A GOOD POINT AND I WILL MONITOR THEIR CONVERSATIONS MORE CLOSELY SINCE THESE INSTRUMENTS ARE NOT YET 21 YEARS OLD AND SHOULD BE SUBJECT TO PARENTAL DISCRETION. YAW DAMPER WORKS TO SPECIFICATION AND I EVEN WENT SO FAR AS TO EXPERIMENT WITH CABLE TENSIONS AS LOW TEMP/HIGH ALTITUDE AFFECTS TENSION. MY MECHANIC (NOW ADOPTED INTO MY FAMILY) AND I FOUND THAT WHEN THE CABLES WERE ADJUSTED TO THE HIGHER TENSION SIDE OF THEIR ALLOWABLE TOLERANCE, THE PROBLEM WAS MINIMIZED (BUT NOT ELIMINATED UNTIL INSTALLATION OF THE WINGLETS).
Frank`s response on my complaining about the difference in AVGAS prices between Europe and the US :
PLEASE REMEMBER THAT OUR '100LL' AVGAS IS FURTHER PROCESSED WITH 50% WATER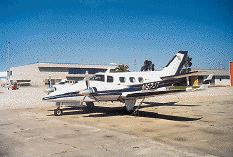 ADDED SO THAT EVERY OTHER GALLON IS FREE. THEY ONLY SHIP THE GAS HUNGRY ENGINES TO EUROPEAN CUSTOMERS AS WE, IN AMERICA, KNOW THAT YOU ENJOY GIVING 75% OF THE COST OF EVERY GALLON BACK TO YOUR GOVERNMENT AS TAXES. YOU CAN BE PROUD, OF COURSE,THAT YOU ARE MUCH MORE PATRIOTIC THAN WE SAVAGES ARE IN AMERICA. WITH OUR HEAVILY MODIFIED ENGINES HERE IN AMERICA, WE ARE ABLE TO ONLY USE LESS THAN 0.4 GALLONS PER ENGINE AT 2500/32 CRUISE.......................(per minute-oops).
Frank, women and DUKES :
I TRIED TO ACCESS THE PICTURE SITE OF PETRA AND YOURSELF THAT YOU INDICATED, BUT WAS NOT SUCCESSFUL FOR SOME REASON. THIS IS UNFORTUNATE AS I (AND THE WHOLE WORLD, PROBABLY) AM CURIOUS TO SEE WHAT THIS WOMAN LOOKS LIKE. AFTER ALL, ANY FEMALE THAT IS REDUCED TO BEING ATTRACTED TO A DUKE OWNER PROBABLY NEEDS INTENSE PSYCHOLOGICAL COUNSELING. HOW DO I KNOW?? WELL, MY WIFE SHOULD BE RELEASED FROM THE "REHABILITATION CENTER" ANY DAY NOW IF SHE CONTINUES TO BEHAVE WELL AND TAKE HER MEDICINE REGULARLY.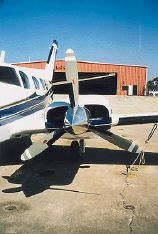 Frank has one of those problems that can drive you mad on a DUKE :
WHILE I WAS AWAY LAST WEEK, I HAD MY DUKE MECHANIC (PROBABLY DRIVES A BMW 750iL BY NOW) LOOK INTO A PROBLEM THAT I HAVE BEEN HAVING WITH MY GAUGE THAT INDICATES ENGINE "RPM".
OVER THE LAST COUPLE OF MONTHS, I HAVE NOTICED THAT THE NEEDLES HAVE BECOME INCREASINGLY ERRATIC IN THEIR INDICATION AND STABILITY. IT HAD GOTTEN TO THE POINT THAT I COULD NO LONGER BE SURE THAT I WAS REALLY SETTING THE ENGINE RPM'S TO THE PROPER SETTING FOR CLIMB, CRUISE, AND LANDING.
STRANGELY ENOUGH, I WAS STILL ABLE TO SYNCHRONIZE THE ENGINES WITH THE PROP SYNC SWITCH EVEN THOUGH THE NEEDLES WERE BOUNCING +/-200+ RPM ON THE GAUGE.
I HAD THE MECHANIC REMOVE THE GAUGE ITSELF FOR A THOROUGH CLEANING AS THE MAINTENANCE LOGS DIDN'T INDICATE THAT THIS HAD EVER BEEN DONE. HE ALSO REMOVED THE 'RPM' ENGINE TRANSDUCERS FROM EACH ENGINE AND SENT THEM OUT TO BE ANALYZED.
FOR YOUR INFORMATION, THE REASON THAT I WAS STILL ABLE TO SYNC THE ENGINES WAS THAT 'SYNC' IS ACCOMPLISHED BY OTHER MEANS.
AT ANY RATE, THE GAUGE ITSELF DID NEED TO BE CLEANED, BUT TESTED FINE ON THE BENCH. HOWEVER, THE ENGINE 'RPM' TRANSDUCERS WERE INDEED IN SAD SHAPE. AS IT TURNS OUT, THE MAIN PART OF THE TRANSDUCER MECHANISM CONSISTS OF A SERRATED MAGNET PRESSED ONTO A ROTATING SHAFT THAT IS DRIVEN OFF OF THE ENGINE. THESE MAGNETS HAD BECOME LOOSE AND WERE NOT SPINNING CORRECTLY THEREFORE THEY WERE NOT ELECTRONICALLY COUPLING CORRECTLY TO THE SENDING UNIT INSIDE THE TRANSDUCER. THEREFORE, THE METER WAS GETTING INTERMITTENT SIGNALS CAUSING THE ERRATIC INDICATION. SO, IF YOU EVER SEE YOUR 'RPM' NEEDLES JUMPING AROUND, CHECK THE ENGINE TRANSDUCERS NOT THE GAUGE. THIS REPRESENTS THE 'DUKE' MAINTENANCE HINT FOR THE WEEK.
Frank also sent a picture of his panel and it looks GREAT :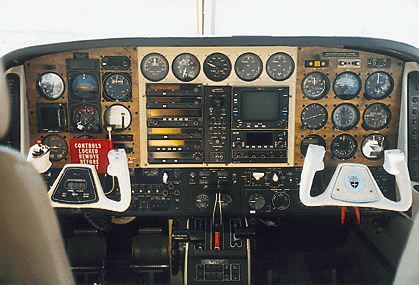 And finally there is Frank himself. Always have a save flight, my friend !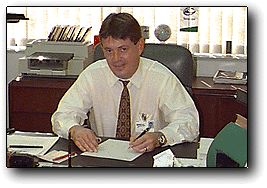 Last updated : 14.8.1997
Back to my Homepage